What About Us Carries On?
If our parents have already passed away, what is it about them that we remember most? And what about our grandparents and great grandparents? Do we remember how they met? Where they lived? What careers they pursued? What they valued? And of course, what about some of the other influential people in our lives, like that special teacher, aunt or uncle, coach or dear friend? What about even our spouse, for those of you who may have by now lost your life partner?
What I find notable is that most of the factual information about our forbearers is forgotten or lost. So what is it about those who have passed on, that is really important? What is it that transcends their physical lives? Have you thought about how you would like to be remembered? This is a really tender question, but it's a vital one. Virtually all of us have been a caregiver or nurturer for others at some point in our lives and sometimes, sadly, if we take stock of our lives, maybe we find that we did not give of ourselves in nurturing or caregiving ways. How did each of us make those life-sustaining connections to others? Did we nurture our relationships? Did we give of ourselves? Did we share in the betterment of other's lives, as well as of that of our own?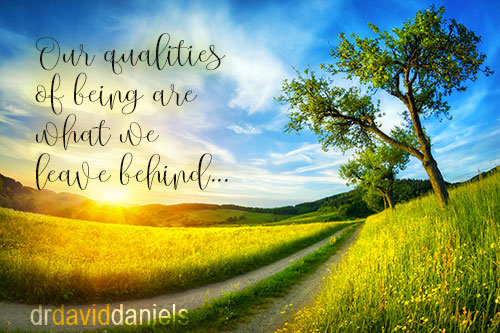 What we come to find we are actually remembered for are our qualities of being. Our nurturance of others, our presence, our receptivity, our awareness, our compassion, our joy, our generosity, our hopefulness, and our expression of our own wants and needs. And all of that in congruence with that of others. Sadly, we may actually be remembered for how we actually lacked these qualities, or even, that we expressed much the opposite of these altruistic qualities.
Read More