The Attitude and "5As" that are Making a Huge Difference
What I Witnessed, Working with Susan Olesek and the EPP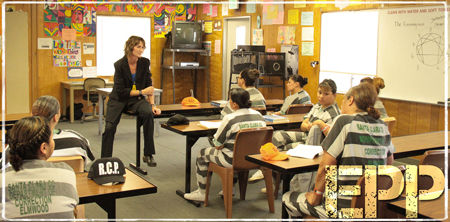 Susan Olesek, an enthusiastic reformer type who had just certified as an Enneagram teacher — through the school that I co-founded in 1988 with Helen Palmer —told me about her having been invited to teach an extended Enneagram class to inmates in a Texas prison. We all thought it was kind of a big deal and very courageous of her. Four years later, I watched Susan muster up the gumption to found a nonprofit that she and her founding board members named, "The Enneagram Prison Project (EPP)." She told me that she witnessed, time and time again, the incredible effect learning the Enneagram was having on the inmates she had been teaching, and she felt compelled. She felt she had to do something to bring this system to  more than just those in Texas who had found themselves in a prison of their own making, and behind bars.
Susan was honest with her fears and doubts when she first started out, as not many had ever attempted to teach the Enneagram system on a consistent basis in penitentiaries or jails. Would she get it right? Did she know enough? Would the inmates have any interest in this at all? Could they learn this? Would it make sense to bring this to prison? And on and on and on, she fretted quietly.
Read More
Working With Prison Inmates
---
Freeing Prisoners from the Prisons of Our Own Making
---
---
My friend and Enneagram colleague, Susan Olesek, founded the very moving, rapidly growing Enneagram Prison Project (EPP) in April of 2012.
In order to do so, Susan and the founding EPP Board — Susan's husband Rick Olesek and colleague Suzanne Dion — have been facing and overcoming the prejudices and stereotyping so pervasive in our culture regarding "those" who have been imprisoned, including our perception that prisoners are somehow "less than" – less flexible, less intelligent, all the way to not interested in bettering themselves and/or being beyond reproach.
Last week, Susan and EPP Founding Board Member Suzanne Dion invited me to join them at Elmwood Correctional Facility in Milpitas, CA, a facility where Enneagram Prison Project (EPP) started its first pilot program, where Susan and Suzanne have been teaching two side-by-side 12-week classes to both female and male inmates. I went from "hearing about" what they had been doing with EPP to standing right there with them, teaching, talking, and sharing with a group of incarcerated men of various Enneagram types. What immediately surprised me was the extent of openhearted curiosity present in the attending men and the incredible awareness they had each fostered at the ten-week mark of their Enneagram style and defense patterns.
Working with the California Youth Authority
In the early 1980s and before I had begun studying the Enneagram, I was working on a project in a California Youth Authority facility. I was brought in to teach a participative management style to the staff in order that their already-existing-yet-struggling transactional analysis treatment program had a chance of succeeding. The process and teachings I fostered worked. The number of youth acting out went down significantly, grades went up dramatically, and cooperation between the youth-aged inmates and the staff grew enormously. I learned working there that these young guys were just "young," trying to find the only way they knew to a good life and trying to learn more about self-control in order to do so.
Read More