How to Learn the Enneagram
Step 2 – Sign-up (FREE) for David Daniels' Weekly, by-the-Season, ENNEAGRAM REFLECTIONS >>
Step 3 – Go Deeper by reading, The Enneagram, Relationships and Intimacy, written by David N. Daniels and Suzanne Dion, now available on Amazon >>
Step 4 – Begin working with an experienced and skillful Enneagram Coach
Step 5 — Attend Enneagram Trainings, Conferences, and Workshops offered by credible, experienced teachers and organizations
---
IT'S A PROCESS — Take Your Time and Give It Your All
It's a rather universal ache, within each of us, to come to "know ourselves."  "Who am I?"  "Why do I always do that?"  "What overcame me yesterday?"  "Why do I…?"  "Why did my partner…?"  "Why do I always feel…?" And, and, and…
As the Enneagram gains popularity, conversation around the different ways that people "behave" and "respond to things" takes shape and a desire to understand where we ourselves might fit into this "Enneagram" system captures our curiosity.  The Internet now boasts hundreds of thousands of Enneagram searches per month. Instagram, YouTube, and facebook now readily share countless entertaining as well as informative videos on the subject. While countless years in development and dissemination, the Enneagram is today is hitting a critical mass of interest — offering the world a profoundly insightful tool for needed and so valuable self-and other-understanding.
Understanding the Basics of the Enneagram — Where We All Start
When studied superficially, the Enneagram can be an interesting, broad-strokes way to identify some of our behaviors and those of others. A basic understanding of differing behaviors, driven by different personality "structures," can shed some light on our own proclivities as well as lighten up our tendency to expect others to behave as we do, at all times.  With just a cursory study of the Enneagram, a little more compassion can be had for one's self and for others, we might understand something about ourselves or a loved one a little better, and that's all a good thing.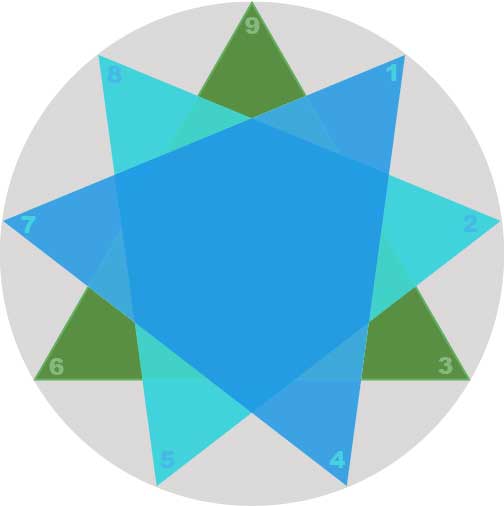 Becoming a Life-long Enneagram Student and Practitioner for Self-mastery
When studied deeply; however, thoroughly and experientially, the Enneagram can become a life-enhancing game-changer. Deeper Enneagram study brings us to self-awareness practice, a tolerance even a skillfulness for the present moment, and the overtime development of self-mastery. We will come to understand not only our Enneagram types' often-turned-to behaviors, but our defense system and its mechanisms, including how often we slip from the present moment into "scripted ways of thinking, feeling, and acting out," and, how to potentiate our own divine nature and essential self as we free ourselves from many of the confines of the resistances and adaptations we developed in accordance with our type structure, in order to grow from childhood (and what we encountered) to adulthood.
While a superficial understanding of the Enneagram can be attained with a weekend workshop or time spent with good handouts and online videos, a more thorough deep dive with the Enneagram will take a much more vigorous devotional study, one that includes over-time exposure and learning, skillful teachers, knowledgable and insightful Enneagram books, experiences with practice, and relational learning with others studying the Enneagram.
Loving the Process — It's Worth It
There's a bit of a learning curve to really understanding the system and all of the complexities it has on offer; so, whatever you do, don't get discouraged along the way. Just keep at it! The process of knowing ourselves is a precious one, and requires a concerted effort, lots of patience, and lots of self-love along the way. Enjoy the process — from your first year of cursory discovery to the many years of self-learning that will follow. We are certain you'll find this endeavor and the many years of self- and other-discovery beyond personal valuable and so well worth it!